July 8, 2017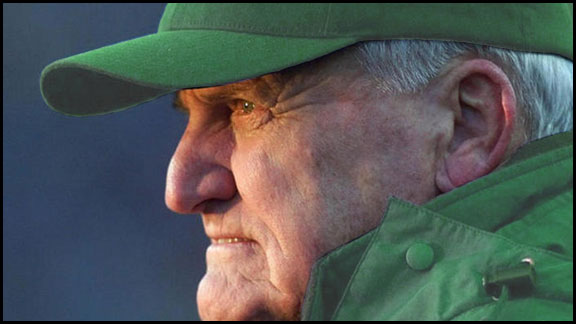 LaVell Edwards Passes
On Thursday, December 29, LaVell Edwards passed to the other side.
A member of the College Football Hall of Fame, Edwards was hired in 1972 and oversaw the rise of BYU to national prominence behind a passing offense during an era when most schools relied on running games. Edwards coached prominent quarterbacks such as Steve Young, Jim McMahon, Ty Detmer, Marc Wilson, Robbie Bosco, Gary Scheide, Gifford Nielsen and Steve Sarkisian. In 1984, he was named National Coach of the Year after BYU finished the season 13–0 and won the National Championship. LaVell Edwards coached BYU for 23 seasons (1972–1994).
In 1995 LaVell Edwards took the helm of the Black Footed Ferrets/Sobe Lizards in the upstart HFFL and stayed with the team to the very end of his life. He's the only coach the team has known. During his 22 years as Head Coach, he put together an impressive resume. Along with his over all (159-146) winning record, Coach Edwards led his teams to the play-offs eight times, won four division titles, attended four Super Bowls, and won two Super Bowl Championships.
Thoughts from those who knew him well

Ty Detmer
"Love this man and the Legacy he left behind! Great father figure for all of us former players!!"
Chad Lewis
"LaVell was humble and had the best sense of humor right to the end! What a great example."
Steve Young
"The No. 1 quality that coach had was a gift — I'm going to say it was from heaven — that he had the ability to look at you and get a sense of you and be able to have a vision for your future. To see things that you didn't see, to see potential in you that you didn't know about. … It was personal to you."
"He had the ability to see around the corner and it was individual. Football is the ultimate people sport, and you have to have people skills, and he had the ultimate people skills. It was a gift."
Merril Hoge
"Perfectly said, LaVell Edwards was one of the mount Rushmore coaches in football history."